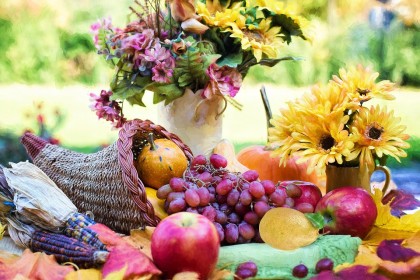 With the Thanksgiving holiday rapidly approaching, I am reminded of the familiar dilemma I see many of my friends facing: which family do they visit for Thanksgiving?
This question may be nonexistent for some but for those who have to answer it, it can be as daunting as finals or the stress of those impending projects. Dr. Bella DePaulo of Psychology Today believes that as of 2016 anywhere between 42 – 45 percent of marriages end in divorce. By those standards it's reasonable to assume that many college students come from split homes.
College can be a trying time. Students are becoming adults and therefore making difficult decisions. Think about the possibilities of who Thanksgiving might be spent with if a student is coming from a divorced home: Parent A and spouse, parent B and spouse, grandparents on parent A's side, grandparents on parent B's side, maybe significant other's family, maybe friends, maybe nobody. With so many options it becomes a difficult decision to figure out if you should travel, go to multiple holidays or simply stay put.
This strain can stress out students and likely interferes with the homework that we are encouraged to get caught up on over breaks or that relaxation time we so desperately need.
We at The Pacer reached out to several people on campus and even some alumni to see how they dealt with split-family holidays.
One senior said that she attends all holidays with her family and none with her boyfriend because it's easier that way.
Another upperclassmen said that he splits his day in half with his mom and half with his dad, but for the rest of his break he's here in Martin at work.
A recent graduate said she only attends her boyfriend's family's dinner because he hosts a big family dinner and she misses that feeling from her own family. After asking her how she approached that discussion with her mom, she told us she was open about what she wanted and that her mom accepted it.
The options ranged all over the board in responses, but what we want you all to remember this holiday season is that wherever is home for the holidays, let it be a home where you feel loved. Remember that it's okay to choose the situation that is best for your mental health and allows you to be safe and relaxed over break. It's also important to compromise with your loved ones. This can happen only by maintaining open communication. Be sure to tell your family what your plans and wishes are, and make them aware ahead of time of how many households you would like to celebrate with, so everything is out in the open.
Holidays should be a time of relaxation and for many of us, good food. If it is too much stress based on where you are going, you may miss the reason for the season.
(Photo Credit/ Creative Commons)