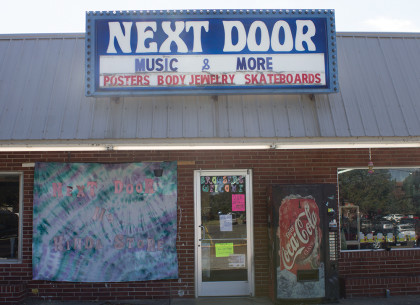 After 44 years of business, The Next Door will be closing its doors on Oct. 10.
The Next Door is Martin's longest running business with its doors opening to the community in 1973. The beloved head-shop has been popular for many generations, supplying the surrounding area with skateboards, CDs, posters and more. It has been the hang-out spot for college students over the years, and notorious for its laid back environment.
The Next Door has been an active part of UTM and the Martin community. The shop often invested in UTM's newspaper and the students running the paper by advertising with The Pacer. The Next Door would also host open mic nights for the community, allowing everyone to share some creativity.
Bryce Martin, a communications major from Nashville and frequent patron at the shop, opened up about how he felt about the store's closing.
"It was on of the longest running businesses in Martin, Tennessee," he said. "People of all generations would tell me all of the great memories they had in that store. Don did a great job holding that store down for as long as he did and it will surely be missed in our community."
Jacob Greene also voiced how he felt on the loss of the business.
"It makes me sad to see it go. I loved going in to pet Raspberry and look at all the black light posters. It was where I spent a lot of time and money," Greene said. "The Next Door was the place to be, no matter what time it was."
Devan Carpenter, a communications major from Martin, showed her sympathy and respect to the shop.
"Don did a great job of running The Next Door. I always heard students talk about how their parents would shop there in college and now they shop there," said Carpenter. "It is sad to loose the staple that brought different generations together."
Reasons behind the closing will remain undisclosed.
Whether it was to browse around or just to stop in and pet Raspberry the cat, The Next Door was always the place where everyone was welcome. The shop is currently having a sale to clear out inventory before officially closing on Oct. 10.
(Next Door, located on Hurt Street, will be closing on Oct. 10. Pacer Photo/Sarah Knapp)