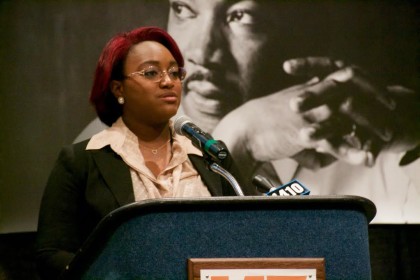 Creating change through peaceful development and continued harmony has come to be a creed for Corri Oliver and her reflection of black history as an ongoing pursuit.
Memphis, Tennessee, once claimed Corri Oliver as theirs, then Knoxville became her home, and now the small town of Martin has the opportunity to allow Oliver to step into their community and create changes that are sure to empower others. Oliver graduated from White Station High School in 2014, in the top 25 percent of her class, and her successes definitely exceed the classroom.
Dr. Martin Luther King Jr. once said, "The ultimate measure of a man is not where he stands in moments of comfort and convenience, but where he stands at times of challenge and controversy."
Being raised in a single parent household with siblings, Oliver knew that her odds were stacked against her. She never let that adversity bog her down. Today, Oliver proudly represents hard work by being "Miss Black and Gold" for the Alpha Phi Alpha Fraternity Incorporated, she is a member of the Alpha Kappa Psi professional business fraternity, the president of the Residence Hall Association, is a resident assistant for Ellington Hall at UTM, and is on the planning committee for the annual Civil Rights Conference hosted by UTM. She was one of two keynote speakers for the Martin Luther King Jr. Celebration and Breakfast, where her words about passion, dedication, and discipline moved the audience to a standing ovation.
In Oliver's explanation of the annual Civil Rights Conference, which is approaching in the third week of February, she stresses the importance of hosting events that are inclusive to all people. Not only will there be speakers, but also showcases throughout fine arts, a day at Discovery Park, and more, so people can find a place to get involved.
"I think it's important for people everywhere to come together and just have open dialogue about all types of privilege and all types of problems out there, because Civil Rights is about every citizen here, and in the United States, and in the world; because it's about being civil with one another," says Oliver of the importance of student involvement in the conference.
This woman's words align with Dr. King's values in more ways than she knows. Dr. King said, "People fail to get along because they fear each other; they fear each other because they don't know each other; they don't know each other because they have not communicated with each other," and it is true even for students on college campuses that a fear of differences creates conflict that is unnecessary.
Oliver is a sophomore accounting major. She considers her ability to go to school and work for an education to be a gift from past Civil Rights activists and leaders. However, she knows the overall goal has not been met and that there is still work to be done.
Oliver believes that continuing the cycle of creating peace will also allow people after her to continue to do the same. She believes in a need for constant collective action to prevent society from relegating back to the way things were in the past. There is no discount, in her mind, on the importance for further education of black history and the cultural backgrounds of other races in schools. She feels that acceptance and peaceful compromise would be made easier if the courses offered about different cultures were a more common requirement. "It's not just a matter of us being able to go to school with each other, it's a matter of us going to school with each other peacefully….. and constantly mesh together, and continue to take the world by storm."
Oliver urges her peers to remember that a person, regardless of race or stance, does not have to protest to make a difference. "You can play a vital role in Black Lives Matter and the Civil Rights movements by doing other things. You don't have to march… protest… picket… you can do it by developing yourself," she continues that this development and the unique view that each person has is what makes all positions important. Oliver also encourages people to remember that their appreciation and respect for Civil Rights movements should not be limited to one month.
"Black history month is one piece of a whole puzzle," says Oliver on the need for constant appreciation of all cultures. If the attention stops being on the issues, progress ceases. "To go from having your life in the hands of a white man to being the commander and chief of the United States, that is a complete 360 turn," says Oliver of black history month.
This goes to show that black history is not, and never will be, limited to the marches, sit-ins and protests. Black history progresses through time and shows that the end only arrives when people stop pushing boundaries.