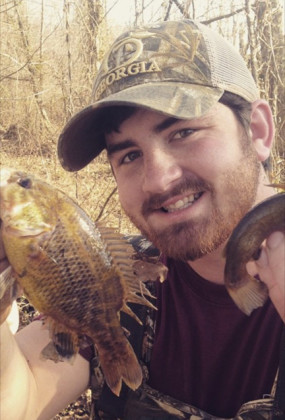 A dinner will be held at 6 p.m. on Feb. 18 in the Boling University Center Duncan Ballroom to raise money for a scholarship in memory of student, Phillip Trey Lindsey.
Lindsey, a native of Jackson, Tennessee, graduated from UTM with a degree in Natural Resources Management in May 2016. After graduation, he began an internship with the Nebraska Cooperative Fish and Wildlife Research Unit Southwest Nebraska Pheasant Research Project.  In July, he sought medical attention for leg swelling, and eventually passed away when a blood clot sent him into cardiac arrest. Lindsey was 24 years old.
His parents are John and Lisa Lindsey, and his siblings are Will, a senior UTM wildlife biology major, and Taylor.
"He would think this is awesome," Will said.
During his time as a student, Lindsey served as vice president of the UTM Wildlife Society and was rewarded the Byford Conservation Award.
"He was a wonderful student," said Dr. Eric Pelren, Wildlife Society advisor and professor of agriculture, geosciences and natural resources. "He was energetic. He was excited about learning, excited about life. … He was one of those people that brought a class together, brought a group together."
After his passing, several donations were made to the organization in his name.  In thanks, the student group decided that they wanted to name Brehm Hall classroom 202 after him.
This room, called the Natural Resources Laboratory, serves as the primary classroom for wildlife biology majors and is where the Wildlife Society officer meetings are held. It will also feature a biography of Lindsey.
"Trey definitely impacted all of us," said Gunner Boucher, Natural Resources Management senior and Wildlife Society president. "By leaving a legacy like that on a classroom, something that will be there forever, he can impact everybody that comes through here forever."
However, upon approaching Lindsey's family for permission, the group learned that to do this a financial contribution must be made to the institution. The family had already planned to create an endowed scholarship in Trey's name. Donors are given five years to raise $25,000.
The family wishes to do this to keep his memory alive and to help ease student debt, because education was always important to Trey, because he loved the Wildlife Society and because of their help after his passing.
The scholarship will be given to juniors and seniors majoring in wildlife biology. Priority will be given to graduates of Southside High School.
Money collected from the dinner event on Feb. 18 will help to fund the endowment. At this point, 40 tables have been sold. To purchase a half table, to seat four, cost $350 and a full table, to seat eight, cost $650. There will also be an auction for sports and music memorabilia and many more valuable items, including NASCAR tickets, concert tickets and passes to meet Luke Bryan. Larger items can be purchased online at https://treylindseyscholarship2017.eflea.ca/view up to Feb. 16.
Some of the items to be auctioned belonged personally to John Lindsey, who has done memorabilia auctions for his children's high schools. Other items were donated after sending out letters to businesses and sports organizations. There are over 120 items for auction.
The evening's key speaker is former MLB player and member of "Buck Commander," Adam LaRoche. John Lindsey reached LaRoche through his brother. One day John Lindsey received a call and it was LaRoche, agreeing to participate in the event.
Trey also played guitar and learned by playing Darius Rucker's "Wagon Wheel."
"He wore it out and we all were burnt out on the song," John said. "Every time he started playing it, everyone would make eye contact with a look of 'no, not again' and we'd laugh about it."
With support from the community, family and friends, including members of the Wildlife Society who will be assisting with the auction, the family hopes to generate several scholarships to distribute every year.
"Trey loved living life," said John, who also described his son as a good brother and prankster. "He loved God, family, friends, and the outdoors. Trey was so talented, seemed to pick up everything easy, whether it be sports, taxidermy, guitar, and his dancing left us some great memories. If you were his friend, he'd do anything to help you and did not turn his back on friends."
To learn more about purchasing items for the fundraiser or making a donation, visit the Phillip Trey Scholarship Endowment Facebook page.
(Photo Credit/John Lindsey)