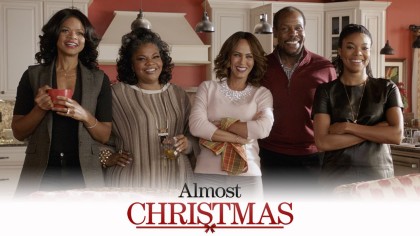 It has become a cinematic tradition that every year around Thanksgiving and Christmas you can be sure that some of the year's biggest movies will be hitting the big screen.
There is also a trend of one or two lighthearted holiday themed movies released during this time of year to set the tone as well. This year among names like Fantastic Beast and Where to Find Them and Dr. Strange there is one that can definitely stand on its own two feet.
Almost Christmas features a talented cast with big names like Danny Glover, Mo'Nique, and Omar Epps. At first it appears to be your run-of-the-mill dysfunctional family during the holidays comedy. At first glance, the appeal seems to be following very closely in the footsteps of recent holiday movies from recent years, such as Christmas with the Kranks, The Family Stone, or Four Christmas.
The noticeable difference that makes this movie stand out, is the actors' on screen interactions and chemistry. This movie is meant to be a comedy drama and it delivers that feel, especially with how much fun the actors are clearly having with the roles they're playing. The plot has its rises and falls as the characters face the first Christmas after the loss of their mother.
Walter (played by Glover) is retired, and sees the opportunity for his Christmas wish to come true: his four adult children staying with him through the duration of the Christmas holiday. However, there is a bit more to it than that because this family will need a true miracle in order to just get along.
As the members of the Meyers family arrive for the holiday get-together, it becomes clear that this is a challenge. From fighting over the holiday football game to quick-witted characters, this family reunion might spell disaster instead of the miracle Walter had hoped for.
While it may not be the top-seller this holiday season, Almost Christmas is definitely a great watch, and does an honest job of getting everyone into the holiday spirit. It is certainly worth checking out.
(photo credit | universalpictures.com)