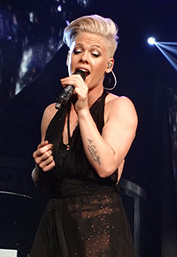 P!nk's newest album titled, "Beautiful Trauma" hit the shelves on Oct. 13 and is already on track to becoming the 2017 Biggest Debut by a Woman on Billboard 200, according to analysts. The list for the top 10 will be revealed on Oct. 22.
"Beautiful Trauma" was released by RCA Records and is the product of collaborations between prominent music-makers Max Martin, Johan Shellback and Jack Antonoff.
It is P!nk's seventh record since the release of her sixth, "The Truth About Love" came out in 2012.
The 13 track record features P!nk's signature rock sound, though subdued and heavily featuring the piano. It is a simpler sound layered with reflective and thought provoking messages.
However, it stays true to her gritty and fearless attitude. She curses like a sailor and proclaims her independent, resilient nature in songs, "Wild Hearts Can't be Broken" and "I Am Here."
Listeners first got a taste of the music when she released her single, "What About Us" on Aug. 9.  The meaning behind the song has been debated since its music video release on Aug. 16.
It was directed by Georgia Hudson, and is set to the backdrop of government dystopia and political upheaval. It follows youth as they cope with the chaos.
The opening verse says, "We are searchlights, we can see in the dark/We are rockets, pointed up at the stars/We are billions of beautiful hearts/And you sold us down the river too far."
The song is currently moving up the Billboard's Hot 100 chart, where it sits at spot 23.
"I'm certifiably, insanely proud of this album," she said in an Instagram post on the day of her single's release.  "It's been a while, and I'm grateful for all the years we've had."
Her one song collaboration is with Eminem on the track "Revenge."
"So I drank a lot of wine and I wrote a rap, and I was mediocrely impressed by my rap skills," she said to the LA Times.  "Then I went home and drank more wine, because that always sounds like a good idea, and I emailed Eminem and I said, 'I've loved you since you gave me your autograph in 2001 at the MTV Awards, and I'm gonna be a rapper now and you're gonna rap with me.'
The rapper responded with a simple 'ok.' He has collaborated with P!nk in years past on the song "Here Comes the Weekend" for "The Truth About Love."
In addition to the album, she also released an Apple video that documented her journey making the album while raising her kids, Willow, age 9, and Jameson, 9 months.
Her tour begins in March of 2018 and ends in September. In addition to traveling around the states, she will also perform in Canada, Australia and New Zealand.
Altogether, this album is a deviation from P!nk's normal material, but not in a bad way. Her different yet still recognizable sound, packs a punch but with a softer force.
(P!nk performing live in 2013. Photo Credit/WikimediaCommons)