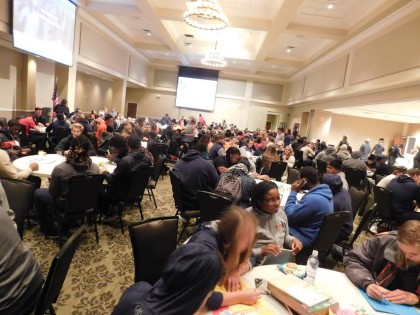 Student athletes came together Wednesday night for a community service event.
Over 300 UT Martin athletes from all sports met in the University Center to write for Letters in Motion.
Letters in Motion is a faith-based nonprofit organization that delivers handwritten letters to children in Nepal and Kenya. The organization focuses on raising awareness about literacy and providing more educational opportunities for children. The organization has collected over 10,000 letters that have been sent to children in Nepal and Kenya.
Student athletes wrote and decorated letters containing encouraging thoughts, information about their town, hobbies, pets and more.
"Our goal for writing letters is to encourage the children in Nepal to pursue their education in order to follow their dreams and have a better life," said Courtney Sellers, co-founder of Letters in Motion. "I believe that athletes are great candidates for the letter movement because they know what it means to work hard in order for your dreams to come true."
Along with writing letters, the athletes were given refreshments and got a special thank you from UTM Chancellor Dr. Keith Carver.
"Being a student athlete gives us so many great opportunities to help people, like Letters in Motion," said freshman women's basketball player Kendall Spray. "Helping children from a different country allows us to not only connect with them but make their day a little better. As student athletes, our lives stay so busy but bringing everyone together on nights like these can make a huge difference."
To find out more information or to be a part of Letters in Motion, visit LettersInMotion.com.
UTM student athletes write letters as part of the Letters in Motion program, which sends notes of encouragement to children in Nepal and Kenya. (Photo credits / Jacey Bomar)