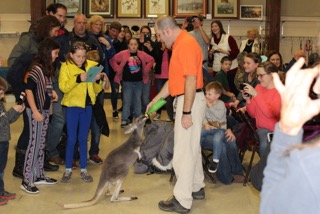 Reelfoot Lake State Park held its 13th annual Eagle Festival on Saturday, Feb. 4.
Tennessee Regional Naturalist David Haggard said that this year's festival saw the most attendees to date, with an estimated 5,000 visitors entering the park for the event.
Haggard said that the event is intended to help educate the public about the importance of state parks, the significance of the eagle and the wonders of everyday nature.
"The main priority here is to educate," Haggard said.
The Eagle Festival was created to better show appreciation to the several types of birds of prey found in North America by informing visitors to the park of their history, as well as getting to see them up close in a safe environment.
Many visitors to this year's festival came from significant distances to reach Reelfoot Lake State Park. First-time attendee Christy Himes said that she drove 2 hours from her home town of New Johnsonville to get a chance to see the rare and impressive birds. Phillip Rollens from Nashville also came by after an early morning hunting trip with his father. This was their first time attending the Eagle Festival as well.
The festival had many activities for visitors, ranging from guest speakers to close encounters with owls and eagles. There were sunrise photography walks for the early birds of the group, painting competitions for children, and Eagle Tours that allowed visitors to get the chance to see up to 30 eagles.
The guest speakers also provided variety for attendees. Bob Tarter brought along an array of exotic animals, ranging from the European legless lizard to a small kangaroo. John and Dale Stokes were able to educate the crowd as their birds of prey flew freely on stage and over the audience.
Reelfoot Lake State Park plans to feature several more educational events for outdoors enthusiasts over the coming year. These events include eagle tours, guest speakers, canoe floats, boat excursions and hiking.
Feature photo: Guest speaker Bob Tarter (center) feeds a young kangaroo in front of the audience. Tarter was one of several special guests at this year's Reelfoot Lake Eagle Festival. (Pacer Photo/Breann Rudolph)