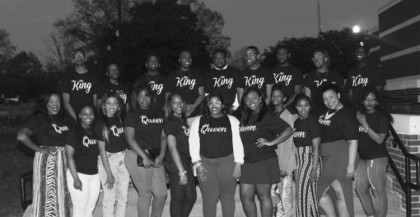 Alpha Kappa Alpha Sorority, Inc. partnered with Alpha Phi Alpha Fraternity, Inc. and the Black Student Association to host the 50 shades of Melanin Fashion Show on Tuesday, April 5 beginning at 6:30p.m on the Northside Patio.
The fashion show featured four clothing categories beginning with business attire, which covered attire for an interview, a conference or a business type event.
The second category was beach attire. This category covered beach clothing like swimsuits sandals and, for the ladies, cute swimsuit covers.
The third category was titled Best Friend. This category featured best friends modeling clothing that matched one another in style, color and swag.
The final category covered at the fashion show was the (spring) casual category. This category demonstrated how to dress casually for everyday life around campus.
Between each category of the fashion show there was a performance from a different artist. Opening the fashion show was the dance group "Triple Threat." The members include Jayla Brown, Keinesia Mason, and Jerrica Harris. They performed a choreographed dance to the song Formation.
Between the categories there were songs performed by Jalen Taylor and Johna Jackson. Also there was a guest performer from Bethel University, John'Ay.
Models who participated in the fashion show were Amberly Baker, Jayra Bonds, Kameron Echols, Logan Golden, Deonte Johnson, Brandon Jones, Jasmine Morrison, Sharla Olenfsoa, Omodolapo Olofinsua, Mikhail Payne, Trisdan Ragland, Jaylen Taylor, Dominique Tripplet, Emillo Walls, Keyonna Williams, Lamarcus Wiiliams  and the Brittany's.
The MC's for the fashion show were Corri Oliver and Justin Shipp.
Chantia Brown, President of Alpha Kappa Alpha stated "The event turned out great. We had great support from the students, especially from the African American students. Thanks to everyone who help make the event a success and those who came to support."
The event ended with all the models and Brown and others taking stage in black t-shirts labeled "Queen" for the ladies and "King" for the gentlemen.
**photograph by Charity Curry:
front L-R: Chanita Brown, Keana Simth, Sharla Oresarya, Shakela Atkins, Princess Buchanan, Corri Oliver, Daylin Coleman, Amberly Baker, Dominique Triplett, Jayra Bonds
back  L-R: Emilio Walls, Mikhail Payne, Trisdan Ragland, Brandon Jones, Rasheed Wilkins, Lamarcus Williams, Jaylen Taylor, Logan Golden, Micheal West Brook