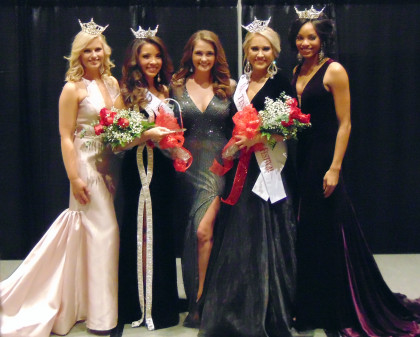 On Sunday, Nov. 13 Brenna Wilkins and Laura Ann Higgs were crowned Miss UTM and Miss Soybean Festival at the annual scholarship pageant in the Russell Duncan Ballroom in the University Center.
As winners of the pageant they both have the opportunity to compete for the title of Miss Tennessee. Also, as the new Miss UTM, Wilkins will receive a $1,500 scholarship and Higgs will receive $500.
In addition to her Miss UTM title, Wilkins was also voted People's Choice. She is a junior social work major and this pageant was her first preliminary competition.
"In high school I was very self-conscious and I was very unsure of myself," said Wilkins. "I didn't know what I liked, what I wanted, and who I wanted to be so when I turned 20 I just decided it's time to stop being so timid."
Her platform is depression and suicide awareness on campus.
Runner up for the title of Miss UTM was Amanda Mayo, freshman biology major and second runner up was Morgan Martin, a sophomore biology major.
Higgs is a junior at Middle Tennessee State University where she studies child development in family settings. This will be here second year to compete in the Miss Tennessee competition.
"How exciting that I get to go back!" said the Team Mica: Suicide Awareness & Prevention advocate. "It was my childhood dream to get to the Miss Tennessee stage and I got there last year and now I'm excited to see how much harder I can work and push myself."
Miss Soybean Festival runner up was Hannah Minear, freshman at Dyersburg State Community College and the second runner up Mallory Tidwell, a UTM freshman integrated studies major.
Mayo was also awarded Miss Congeniality by vote among participants. When announced, she said she was confused and then surprised.
"I had no idea I would win anything tonight because I am relatively new to pageants," said Mayo. "I knew the Lord had a place for me, and his glory shined through me tonight and I am blessed that I could participate with such an amazing group of girls."
Each girl participated in a private interview that accounted for 25% of their score, lifestyle and fitness swimsuit competition for 15%, talent competition for 35%, evening gown competition for 20% and answered an onstage question for 5% of the final score.
The contestants also included Ciara Warren, a senior studying grooming at the Animal Behavioral College; Kailey Duffy, UT Memphis freshman nursing student; Grace White, biology sophomore; and Trinity Humphreys, junior psychology major.
Judges were Dana Allen, owner of Four Seasons Sales and Services; Nick Glenn, sergeant with the Milan Tennessee Police Department; Nan Rountree, owner and manager of Rountree Business Equipment for 10 years before becoming a realtor in Memphis; Kara Waddell Tap, director of UTM-Somerville campus and serves on many Fayette County boards including the chamber, higher education committee and workforce taskforce; Josh Tyner, consumer finance branch manager at Simmons Bank; and Bryan Wood, pageant veteran and salon manager at Studio Nooshin in Franklin, Tennessee.
Hannah Robinson, senior chemistry major and Miss Tennessee 2015, and Jared Anderson, Alumni Relations associate director for annual giving, hosted the evening.
"It was a wonderful year," said Robinson, who went on to place 6th in the Miss America Pageant. "I got to represent not only Tennessee and not only my hometown of Paris, but I got to represent the University of Tennessee at Martin as Miss Tennessee and that was probably my favorite part because going into schools all the kids want to know where you go to college and so I was excited to let them know that I go to UTM in northwest Tennessee."
Miss UTM 2016 and Miss Tennessee Soybean Festival both attended to pass down their crowns.
"Really just being Miss Tennessee Soybean Festival is just a blessing and it's amazing. The city of Martin is so open and loving," said Sarah Yarbrough.
"I won Miss UTM at a very unsure time in my life," said Natalie King, a senior communications and music major. "I had just changed majors and transferred school during my fourth year of college because I didn't like what I was doing and I was wondering if I had made the right decision, and it was after this pageant that I knew I was where I needed to be."
Sponsors included several local area businesses, like Joann's in Union City. The dress shop also outfitted the contestants for the evening.
This year's event was dedicated to Freida Bushart, who has played a part in the pageant for nearly 10 years.
"We present this award of appreciation to Freida Bushart for outstanding dedication to the Miss University of Tennessee at Martin and Miss Tennessee Soybean Festival Scholarship Pageant, exemplifying the true meaning of the crown- scholarship, success, style and service," said Katrina Cobb, the pageant's executive director.
This was the 54th year for the Miss UTM competition and the 18th Miss Tennessee Soybean Festival pageant.
From left to right: Natalie King, Brenna Wilkins, Hannah Robinson, Laura Anne Higgs and Sara Yarbrough pose together after the pageant on Sunday, Nov. 13 in the Duncan Ballroom. (Pacer photo credit| Blake Barnes)